"ORGEL-Liederreise" ("ORGAN-Lied-Journey")

Angelika Kirchschlager - mezzosoprano
Robert Lehrbaumer - organ Presenting the program of the remarkable "Orgel-Liederreise" ("Organ-Lied-Journey") in September 2014:
Songs and arias:
ANTIPHON Salve Regina
BACH "Wachet auf, ruft uns die Stimme", "Lobet den Herren", "Jesus bleibet meine Freude"
HÄNDEL O thou that tellest good tidings to Zion
GIORDANI Caro mio ben
BEETHOVEN Die Ehre Gottes aus der Natur
FRANCK Panis angelicus
MENDELSSOHN-BARTHOLDY Sei stille dem Herrn
DVORAK Herr! nun sing' ich Dir ein neues Lied; inflammatus et accensus
BRUCKNER Ave Maria
CACCINI Ave Maria
BACH/GOUNOD Ave Maria
Organ pieces:
MOZART Andante F maj K. 616
SCHMIDT "Halleluja", "Christmas-Pastorale"
FRANCK Piece heroique
VIERNE Toccata B flat minor
Preiser Records
order form






"Liederreise" ("Lied-Journey")

Angelika Kirchschlager - mezzosoprano
Robert Lehrbaumer - piano Presenting the program of the remarkable "Liederreise" ("Lied-Journey") in June 2012:
SCHUBERT "Das Wandern", "Der Lindenbaum", "Die Forelle", "Gretchen am Spinnrade", "Seligkeit", "Wiegenlied", "Erlkönig", "Ständchen", "Heidenröslein"
SCHUMANN "Widmung"
LISZT "Es muss ein Wunderbares sein"
BRAHMS "Wiegenlied", "Vergebliches Ständchen", "Sandmännchen", "Nachtgesang", "Och Moder, ich well en Ding han", "Da unten im Tale", "Mein Mädel hat einen Rosenmund"
WOLF "Gebet"
STRAUSS "Zueignung"
MAHLER "Selbstgefühl", "Rheinlegendchen", "Aus! Aus!"
Preiser Records
order form






"Schubert" - Pianomusic 4 hands: MIN KWON (New York) and ROBERT LEHRBAUMER (Vienna)

Three Military Marches
Andantino varié
Duo "Lebensstürme" ("Storms of Life")
Four Ländler
Fantasy f minor
MSR/Classics
order form



Most famous pieces and precious rarities, recorded in the USA (Concert Hall of Rutgers University New Jersey) after a series of Schubert-concerts in Europa and in the USA.
Schließen

Details


"nature" - Piano music on nature

TSCHAIKOWSKY - "Die Jahreszeiten"
SCHUMANN - "Waldszenen"
RCA/ARIOLA

order form

The enchanting Tschaikowsky compositions for piano (a separate composition for each month), combined with Schumann`s famous poetical cycle on nature.
close

Details
Trial recording:
Tschaikowsky - Die Jahreszeiten
Nr. 2 - Februar: Karneval
Nr. 3 - März: Lied der Lerche
Nr. 6 - Juni: Barkarole


---

"Organ Music of 5 Centuries"

First recording of the Schuke-organ of the Great Hall of the ORF (Austrian Broadcasting Corporation) in Vienna

SWEELINCK, BACH, MOZART, BRAHMS, SCHMIDT, TAKÁCS, DUPRÉ
ORF

order form

JAN PEETERSZON SWEELINCK Balletto del Granduca
JOHANN SEBASTIAN BACH Einige canonische Veränderungen über das Weihnachtslied: Vom Himmel hoch da komm' ich her BWV 769 & Präludium und Fuge C-Dur BWV 547
WOLFGANG AMADEUS MOZART Andante "Für eine Walze in eine kleine Orgel" F-Dur KV 616
JOHANNES BRAHMS Choralvorspiel "Es ist ein Ros' entsprungen" op. 122/8
FRANZ SCHMIDT Präludium und Fuge A-Dur
JENÖ TAKÁCS Preghiera, Hirtenstück, Pastorale für Darius Milhaud
MARCEL DUPRÉ Variation Sur un Noël op. 20
Schließen

Details



---

"Bregenzer Frühling" (Spring in Bregenz) - Live
Sold out

MOZART
Selected piano works
Sony

---

Gottfried von Einem
The solo piano compositions

Sonatine 1 (1947)
Sonatine 2 (1947)
Vier Klavierstücke (1943)
"Presumptions on Lotti Dürrenmatt" (1983)
"Seven Portraits" (1995)



Karl Christian Jensen, Boris Blacher, Caspar Neher & Oscar Fritz Schuh, Bert Brecht, Agnes Muthspiel, Fritz Wotruba, Carl Zuckmayer.
close

A musical portrait of celebrities
ORF /EDITION ZEITTON


Robert Lehrbaumer, to whom von Einem dedicated also chamber music and who also was the interpreter of the world premiere of the "Seven Portraits" in the Wiener Musikverein, and who had personal contacts with the composer over many years, presents all of Einem`s piano compositions worldwide for the first time:

a kaleidoscope of various musical gems always characterized by "Einem´s special curtly ruggedness" however, once with a touch of jazz, then reflecting Richard Strauss, Gustav Mahler or even Bach. These many facets are audible on the one hand, but can also be realized in the affectionately narrated booklet.
close

Details
Trial recording:
Klavierstück IV - Allegro
Presumptions on L.D. - Nr. 6 - Sehr schnell

order form

---

"Cheerful Mozart" - Live
Sold out

MOZART
Songs, vocal ensembles and piano works
with Walter Berry a. o.
BELVEDERE

---

"Cech, Ligeti, Schlee"

CECH, Piano Concerto No. 1 (1993)
ROBERT LEHRBAUMER, piano
ORF-SMPHONIEORCHESTER (RSO Wien)
HEINZ KARL GRUBER, conductor
ORF/Edition Zeitton


An important modern composition obviously also including jazz elements. Recorded with the interpreters of the first night.

In addition on the CD: Compositions for orchestra by Lukas Ligeti (The Chinese Wall) and by Thomas Daniel Schlee (Ricercar for large orchestra).
close

Details
Trial recording:
From the third movement

order form

---

"Romantic baroque"
Sold out

ALBINONI, Adagio g-moll
For organ and string orchestra a.o.
Tonkünstler Kammerorchester
ORF/KKM

---

"Liszt-Tage 97" - Live
Sold out

LISZT
Mephisto-Walzer
Transkriptionen von Schubert-Liedern
(part from the concert)
ORF
Remainders available
"Virtuosic Pianomusic of Liszt and Weißensteiner"
FRANZ LISZT
Mephisto-Waltz
Fantasy and Fugue about the tones B-A-C-H
RAIMUND WEIßENSTEINER
Konzert-Phantasy op. 91
Three Concert Pieces op. 94
The first appearing record from 1983:

with both the two Liszt compositions that were the success bringing attractions in many concerts and competitions to the young pianist and with equally most pretentious works performed by Robert Lehrbaumer for the first time in the Wiener Konzerthaus.


close
AMADEO

Details
---
"Austrian and Southern German Organ Baroque"
Baroque music by so to say "colleagues" of J. S. Bach, from Southern Germany and Austria, performed on an organ by Gerhard G. Hradetzky sympathising with the historic prototype and very precious in respect of its sound.
The Capricio Cucu by JOHANN KASPAR KERLL, the organist of St. Stephen's in Vienna at the time,
imitating birds' voices (Capricio Cucu) and his brilliant Canzona III as well as JOHANN PACHELBEL's masterly Toccata in e and his twirly Fuga in C; as well as the graceful Aria Sebaldina, GEORG MUFFAT's excellent Toccata VIII and the solemn and mournful Passacaglia in f and at last FRANZ XAVER ANTON MURSCHAUER's Variations on Christmas: Capricio Cucu

close
PACHELBEL - MUFFAT - KERLL - MURSCHHAUSER

Details
Eine der von Robert Lehrbaumer aus der Taufe gehobenen Orgeln:
"Philipp-Dorninger-Gedächtnisorgel" der Pfarrkirche Aschbach/NÖ
Orgelbau Gerhard H. Hradetzky
Foto: Herbert Fasching



close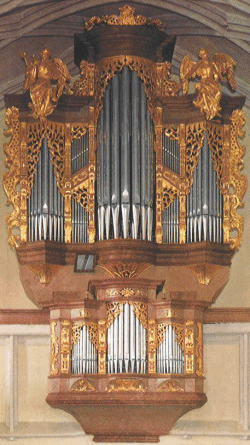 PREISER RECORDS
---
"Robert Schollum: 24 Piano-Préludes"
A kind of bequest of the composer: short character pieces out of Robert Schollum's different creative periods



close
ORF production on the occasion of the first performance in the Wiener Konzerthaus

Details
PREISER RECORDS
"Mozart and da Ponte"
A TV-movie by GERNOT FRIEDEL
Robert Lehrbaumer as interpreter and actor besides HELMUT LOHNER, the ARTIS QUARTET...
"Mit meinen heißen Tränen"
film (for cinema and TV) by FRITZ LEHNER
Dubbing of this awarded film on Schubert on the fortepaino
"Verwaiste Eltern"
TV movie by MICHAEL CENCIG
GUSTAV MAHLER, Kindertotenlieder with ANGELIKA KIRCHSCHLAGER
"Musik und Spiritualität" (Music and Spirituality)
TV portrait by MICHAEL CENCIG